My research in Canada got featured on a Turkish language newspaper (CanadaTurk) based in Canada
Written on August 8th, 2020 by Bilgenur Baloglu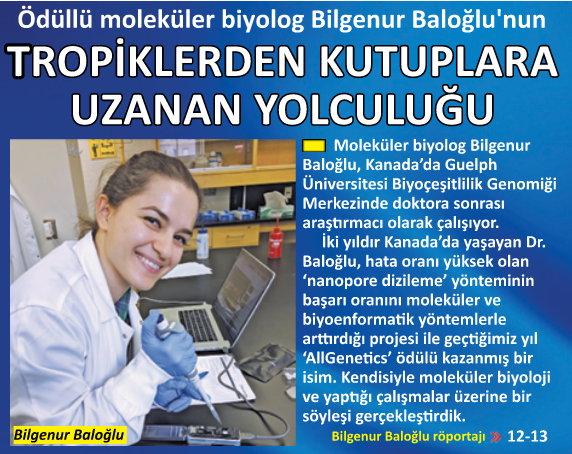 On my last day in Canada, my interview with Canadaturk, a Turkish language newspaper based in Toronto, Canada, came out. I talked about the non-academic track options for molecular biologists, my research in DNA sequencing technologies & DNA-based bioassessment, and my future non-academic plans (stay tuned!).
The title says: Awarded molecular biologist Bilgenur Baloglu's journey from the tropics to the Arctic.
Kanada'daki son gunumde Kanada merkezli CanadaTurk gazetesine verdigim roportaj yayimlandi. Molekuler biyologlar icin farkli sektorlerdeki akademik olmayan is imkanlarindan, DNA dizileme teknolojileri ve biyoizleme uzerine arastirmalarimdan ve gelecek planlarimdan bahsettim. Editor Hasan Yilmaz'a bu muthis firsat icin tesekkurlerimi sunarim.